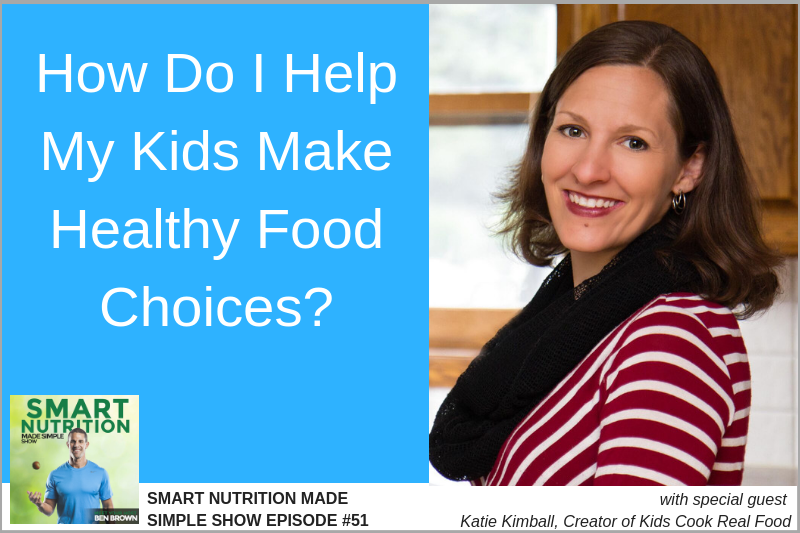 How Do I Help My Kids Make Healthy Food Choices? [Podcast Episode #51]
Have you found yourself struggling to eat healthy without going crazy?
If so, you're definitely not alone.
Today's guest, Katie Kimball, creator of Kids Cook Real Food program, joins us to discuss how to empower our kids (and ourselves) to live healthier lives by embracing the meal preparation process.
Katie Kimball is a Michigan mom who has shared her journey to real food and natural living for 9 years at Kitchen Stewardship, a blog that helps families stay healthy without going crazy. Along with her 4 children, she created the Kids Cook Real Food eCourse to help other parents teach their kids to cook to stem the tide of disease threatening to wash away the young generation. The course serves over 6,000 families from 6 continents and over 10,000 kids are learning to cook!
One of the keys to helping our kids learn to love real, whole foods is to teach them to embrace the cooking process, from seemingly simple instant pot recipes to learning knife skills for chef like expertise.
Click here to subscribe to the Smart Nutrition Made Simple Podcast on iTunes.
Follow Katie Kimball Here:
If you enjoyed this episode, head on over to iTunes and subscribe to The Smart Nutrition Made Simple Podcast if you haven't done so already.
While you're there, leave a rating and review.  It's the best way that we can help more people ultimately make Smart Nutrition SIMPLE!