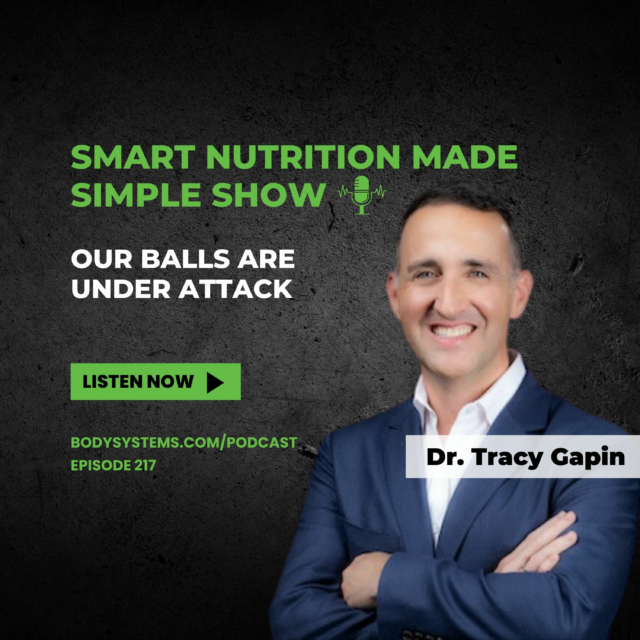 Our balls are under attack…
At least that's what Dr. Tracy Gapin suggests is at the forefront of the precipitous decline in men's health today.
From our toxic environment to poor food and water quality, overconsumption yet undernourishment, over-stressed and under-recovered, to genetic factors that predispose us to reduced hormonal function, the odds are stacked against us…
But it's not all bad as there's plenty of opportunity for us to take control of our health through various components of nutrition, lifestyle, exercise, and medical interventions.
Dr. Tracy Gapin is a board-certified urologist, world-renowned men's health and performance expert, and the founder of The Gapin Institute, the global leader in high-performance health. He has over 20 years of experience focused on providing executives, entrepreneurs, and athletes with a personalized path to optimize their health and fulfill their highest potential. He is also a TEDx speaker as well as the author of Male 2.0 and Codes of Longevity.
In today's episode of The Smart Nutrition Made Simple show, Dr. Gapin and I discuss:
The men's health crisis we're currently living in is affecting testosterone levels, weight, mood, brain function, sex drive, and the drive to commit to getting healthy in the first place.
The role testosterone plays in optimal health and how we should be thinking about testosterone optimization.
The common, but often unrecognized blindspots that can keep us sick and fat, even when we feel like we're doing everything right.
And the role of peptides, specifically GLP1 agonists, like the extremely popular drug, Ozempic, as they pertain to helping facilitate the weight loss process.
If you're a man or a woman who cares about your health and you feel like you already eat healthy and exercise, but aren't seeing the results you'd hope for, then this conversation is for you.
As always, if you love what you hear on this show, then do me a favor and subscribe, leave a positive rating and review, and share this episode with a friend or loved one whom you think could benefit. And if you want to talk about working with me personally, I'd love to chat. Just schedule your free nutrition strategy call at https://www.bodysystems.com/free-strategy-call/.
Connect with Dr. Tracy Gapin:
Website: https://gapininstitute.com/
LinkedIn: https://www.linkedin.com/in/tracygapin/
Instagram: https://www.instagram.com/drtracygapin/
YouTube: https://www.youtube.com/channel/UCJ8U-xLrHqccWvnVYU2Ci_A
Check out our earlier podcast The Role of Genetic Testing in Optimizing Hormonal Health with Dr. Tracy Gapin: https://podcasts.apple.com/us/podcast/the-role-of-genetic-testing-in-optimizing/id1244912234?i=1000429263419
Text the word "health" to 26786 to get a copy of Dr. Gapin's free High-Performance Health Handbook
RESOURCES:
Grab our FREE Fat Loss Fix Guide: https://bodysystems.com/fat-loss-fix-guide/
Check out our new High Protein Recipe Pack – Over 52 Easy to Make Protein Dense Meals + 2-Weeks of Shopping Guides and Meal Plans: <a href="https://bodysystems.com/high-protein-recipe-pack/"…