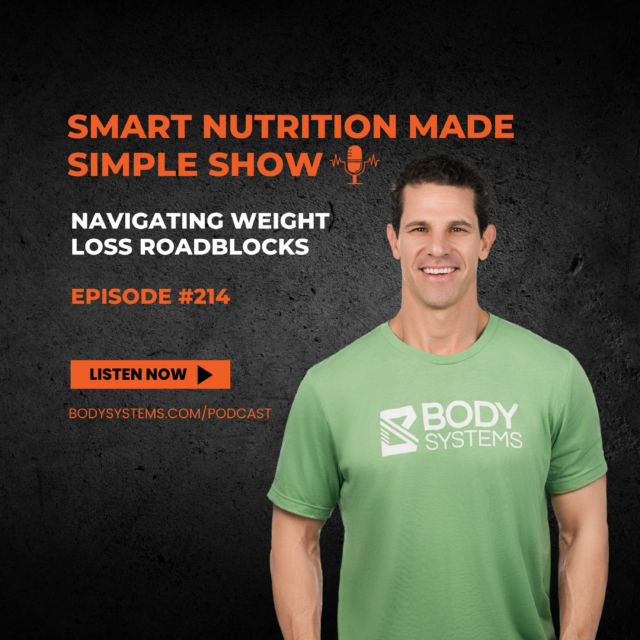 In this week's episode of the Smart Nutrition Made Simple Show, I have a candid conversation with Body Systems client and 6-month coaching scholarship winner, Debra F.
Prior to joining our Smart Nutrition Coaching Program, Debra was at her wit's end, juggling a busy family life and work life while letting her health fall to the wayside.
In today's podcast, we talk about her frustrations with lack of exercise motivation and failed dieting attempts, the struggles she experienced trying to eat healthy while working non-traditional hours, including late nights and early mornings, how the Body Systems coaches and community helped her make lasting lifestyle change, the mindset shifts that have allowed her to develop autonomy and control over her nutrition decisions, and more.
As always, if you love what you hear on this show, then do me a favor and subscribe, leave a positive rating and review, and share this episode with a friend or loved one whom you think could benefit. And if you want to talk about working with me personally, I'd love to chat. Just schedule your free nutrition strategy call at https://www.bodysystems.com/free-strategy-call/.
RESOURCES:
Grab our FREE Fat Loss Fix Guide: https://bodysystems.com/fat-loss-fix-guide/
Check out our new High Protein Recipe Pack – Over 52 Easy to Make Protein Dense Meals + 2-Weeks of Shopping Guides and Meal Plans: https://bodysystems.com/high-protein-recipe-pack/
We've recently partnered with Fullscript, the #1 online source for only professional-grade supplements, to create our own Smart Nutrition Made Simple Supplement Shop! As a loyal subscriber of Body Systems, you automatically qualify for 15% off all supplements – https://us.fullscript.com/welcome/bslnutrition/signup
Connect with Us:
Email: Ben@BodySystems.com
Join our Smart Nutrition Community: https://www.smartnutritionmadesimple.com
Check out our YouTube Channel: https://www.youtube.com/@smartnutritionmadesimple